Xiaomi has upgraded the Redmi Note 12 by introducing a striking new Sunrise Gold variant and expanding its storage capacity to 256GB. These upgrades are set to enhance the overall user experience, making the Redmi Note 12 an even more attractive choice.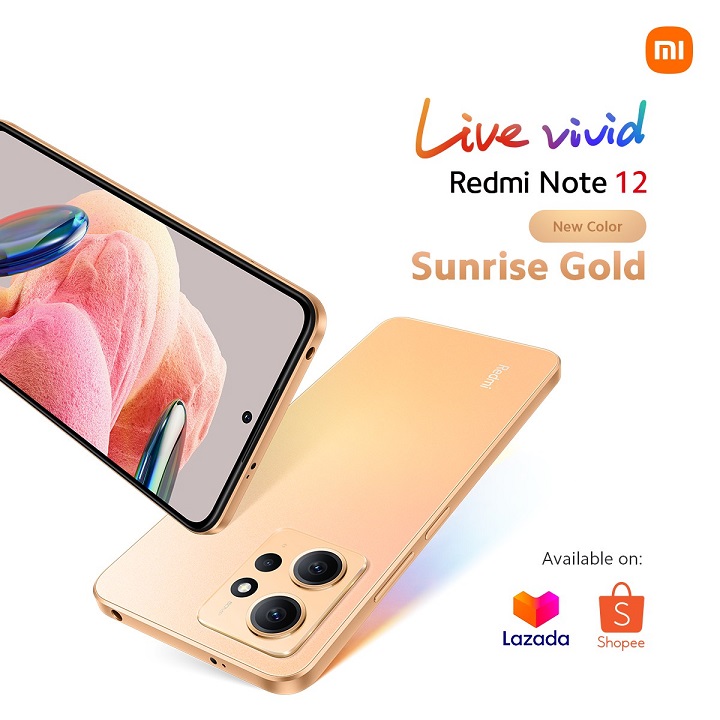 Sunrise Gold: A Vivid Colorway for the Redmi Note 12
The Redmi Note 12 Series' new Sunrise Gold variant features a captivating gradient of gold and pink colors that elegantly shift under different lighting conditions. Embracing the series' "Live Vivid" tagline, this vibrant colorway adds a touch of personality and style to the device. The Sunrise Gold variant will join the existing lineup of equally stylish color variants, Blue, and Lunar Black.
Expanded Storage for More Content
Alongside the new color option, the Redmi Note 12 Series now offers a practical upgrade in the storage department. Users can enjoy more space for their favorite apps, games, photos, videos, and other content, thanks to the introduction of a new 8+256GB variant.
A Midrange Powerhouse
The Redmi Note 12 Series is a popular mid-range smartphone line from Xiaomi. It boasts a powerful MediaTek Dimensity 1080 processor chip that ensures smooth performance. Equipped with flagship-level charging speeds and a long-lasting 5000mAh battery, users can stay connected and productive all day long. The triple-camera system empowers photography and videography enthusiasts to express their creativity and capture stunning moments.
Pricing and Availability
Starting August 1, 2023, the Sunrise Gold variant will be available for purchase at affordable prices. The 4GB+128GB variant will be offered at Php7,999, while the 8GB+256GB variant will be priced at Php10,999.
To sweeten the deal, Xiaomi is launching a special promo where all Redmi Note 12 Series phones, including the Sunrise Gold variant, will be Php1,000 off for a limited time.
So, are you getting one? Let us know what you think in the comment section!