Xiaomi is set to make the rainy season brighter with its month-long July deals. In an effort to bring cheer during gloomy days, Xiaomi announces its Rainy Season Sale, offering discounted prices on popular devices such as the Redmi Note 12, Redmi 12C, Redmi A1, and Redmi Pad.
Additionally, Xiaomi Store is celebrating its 7th anniversary with the Smart Living Carnival, featuring exciting deals on select Xiaomi products.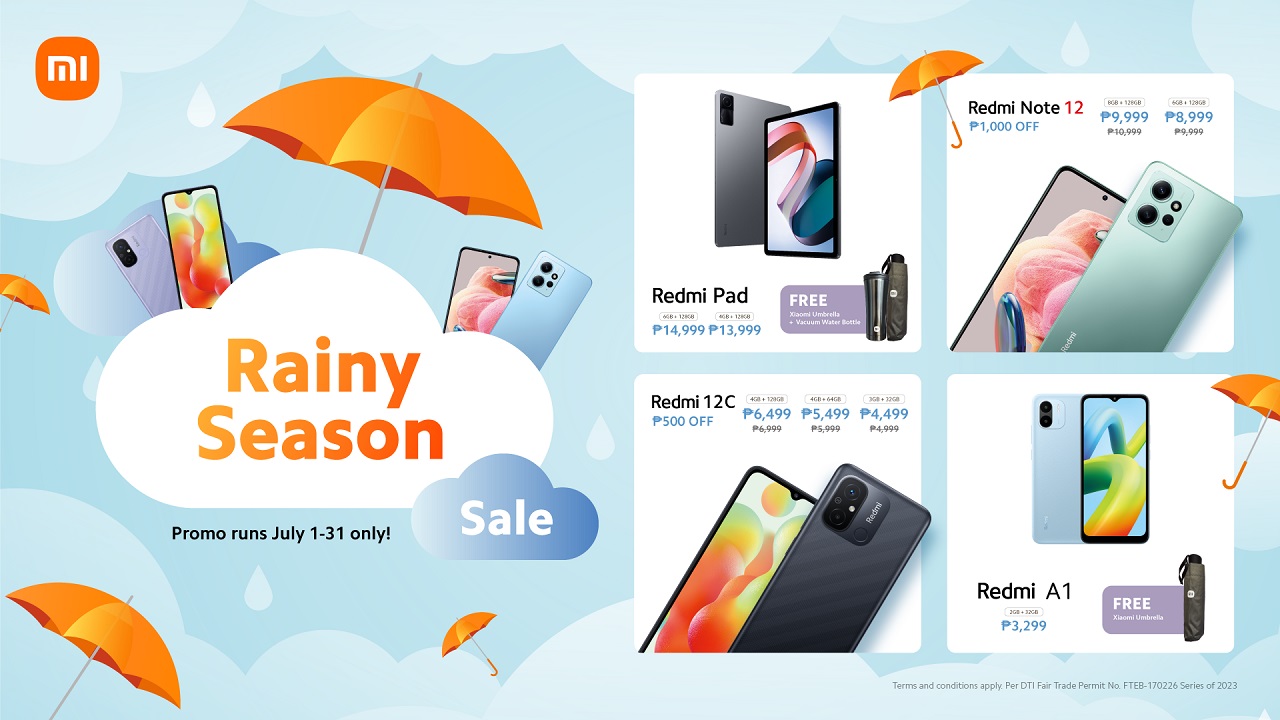 Pouring with Deals: Rainy Season Sale
From July 1 to 31, 2023, Xiaomi's Rainy Season Sale will captivate tech enthusiasts with irresistible offers on a range of devices. Among the highlights are the Redmi Note 12, Redmi 12C, Redmi A1, and Redmi Pad, ensuring a delightful shopping experience for Xiaomi fans.
During the Rainy Season Sale, the Redmi Note 12 will receive a Php1,000 discount. The 8GB+128GB model will be available for Php9,999 (from Php10,999), while the 6GB+128GB variant will retail for Php8,999 (from Php9,999).
Meanwhile, if you're seeking a budget-friendly option without compromising on features, the Redmi 12C is an excellent choice. Known for its spacious storage and large screen, this device offers great value for money. As part of the Rainy Season Sale, the Redmi 12C will be available at discounted prices:
4GB+128GB model: Php6,499 (from Php6,999)
4GB+64GB model: Php5,499 (from Php5,999)
3GB+32GB model: Php4,499 (from Php4,999)
Xiaomi's Rainy Season Sale also includes the Redmi Pad and Redmi A1, catering to individuals seeking affordable yet capable devices. For Php14,999 (6GB+128GB) and Php13,999 (4GB+128GB), respectively, customers can own the Redmi Pad and receive a free Xiaomi umbrella and vacuum water bottle. The Redmi A1, priced at Php3,299, also comes with a complimentary Xiaomi umbrella.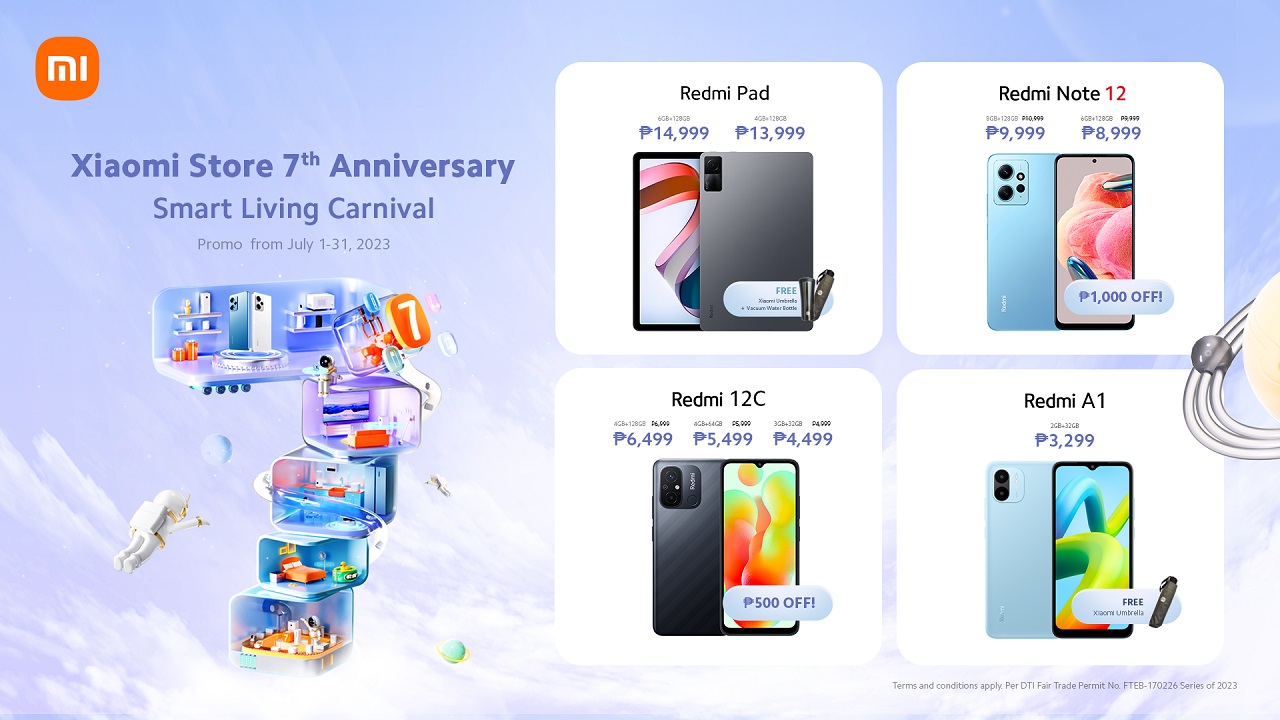 Smart Living Carnival: Xiaomi Store's 7th Anniversary Celebration
In conjunction with Xiaomi Store's 7th anniversary, the Smart Living Carnival offers an opportunity to explore a smarter way of living through exciting deals on select Xiaomi products. The Redmi Note 12 and Redmi 12C, among others, will inspire users to "Live Differently" and embrace the latest advancements in technology.
Avail of the Deals
To take advantage of Xiaomi's enticing offers, visit authorized Xiaomi stores and partner retailers. Online shoppers can also explore Xiaomi's Lazada, Shopee, and TikTok stores. These deals will be available from July 1 to 31, 2023, so don't miss the chance to add excitement to your rainy season with Xiaomi's upcoming promos.