We've taken our time to thoroughly explore every nook and cranny of the realme C55 to see if this budget-friendly device lives up to the hype. So, let's jump right into this full review and explore what makes the realme C55 a compelling option for you!
realme C55 Design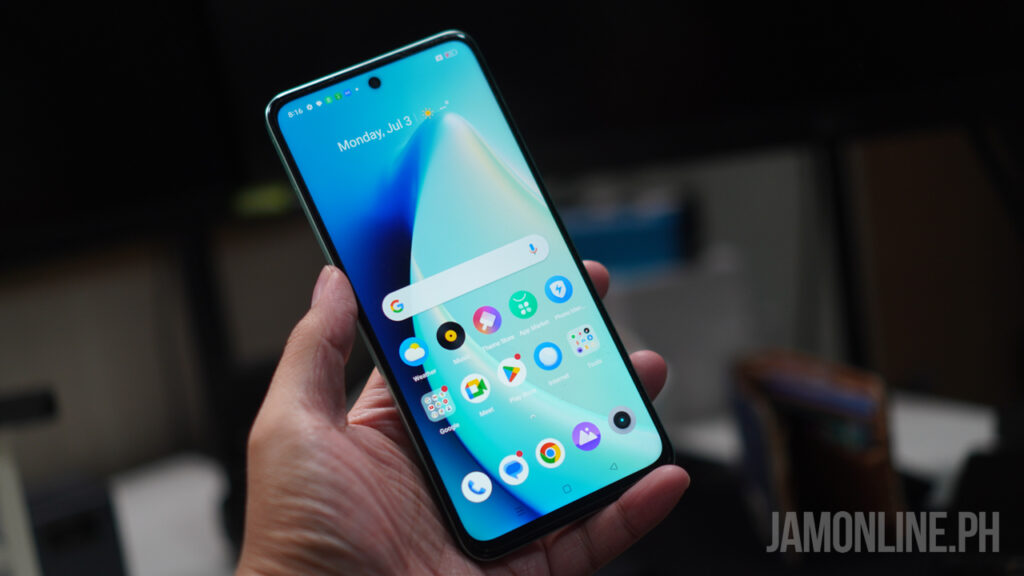 First impressions matter, and the realme C55 doesn't disappoint. Its solid build and tall body give it a premium feel, while the aluminum frame adds a touch of elegance. However, the device can be a bit slippery, so you'll need a solid grip using two hands to ensure it won't fall. One thing worth noting is that without a protective case, you'll find that fingerprint smudges aren't as noticeable as on some other devices.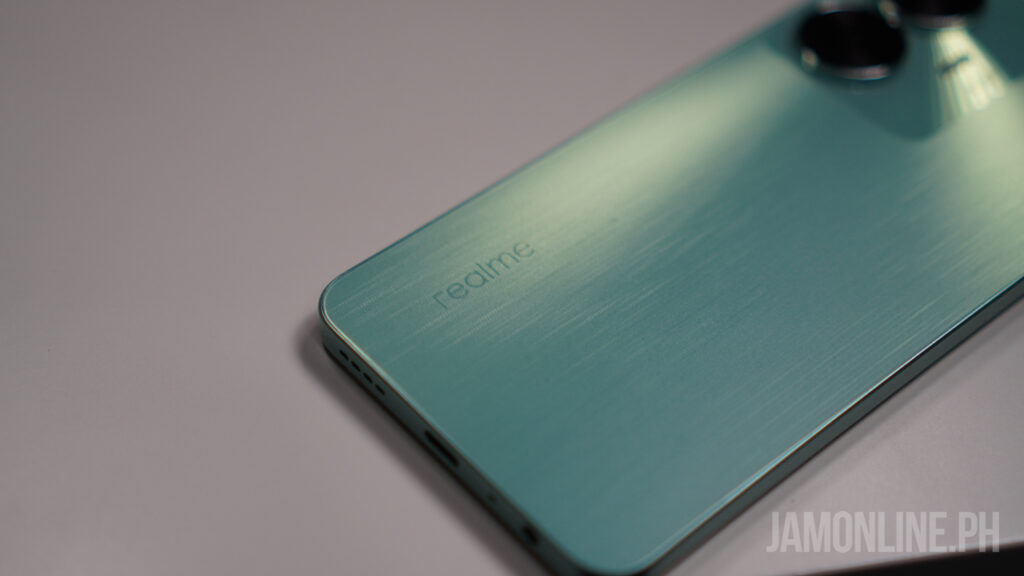 Now, let's take a closer look at its physical features.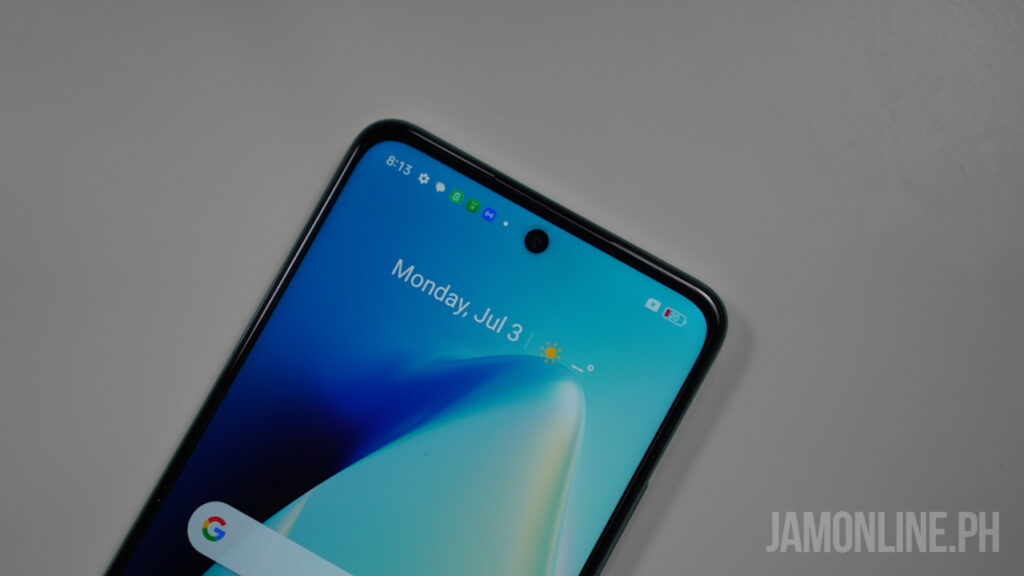 You'll notice the sleek and immersive display on the front, with its in-display selfie camera right below the call earpiece.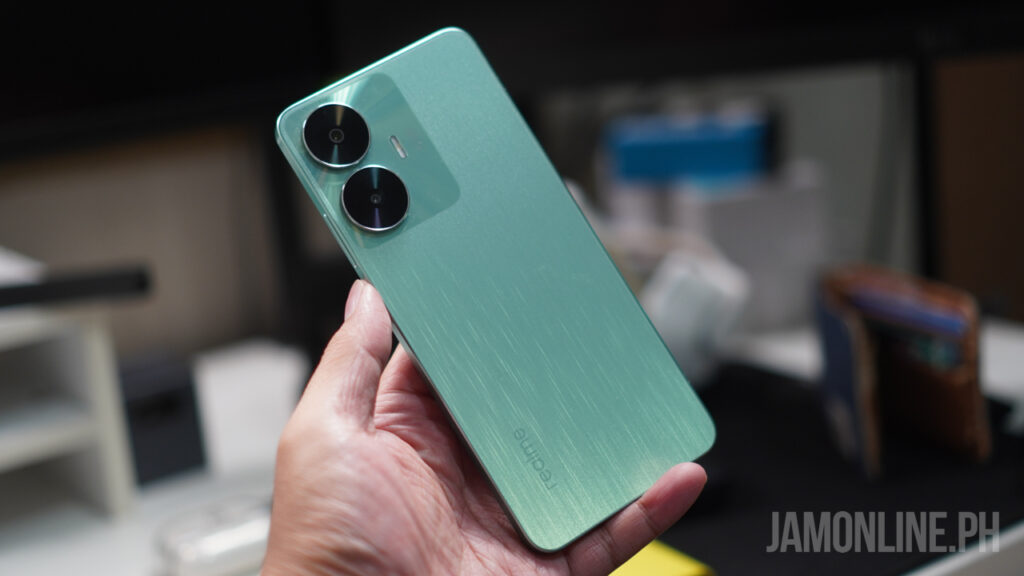 Turning our attention to the back of the device, we're greeted with a striking visual design. Two large circles on the top left corner grab your attention and house the double camera setup. But, please, don't expect that these big circles equate to how big their camera sensors are, as you might feel frustrated with their performance. To the right of the camera module, we find the dual-tone LED flash, ready to assist in capturing well-lit photos, even in challenging lighting conditions. Meanwhile, we'll dive into the camera details later, so keep reading!
On the left side, there's a convenient dual SIM card tray, offering flexibility and the option to expand storage using a microSD card. This means you can easily switch between multiple SIM cards or add more storage for your media and files without sacrificing functionality.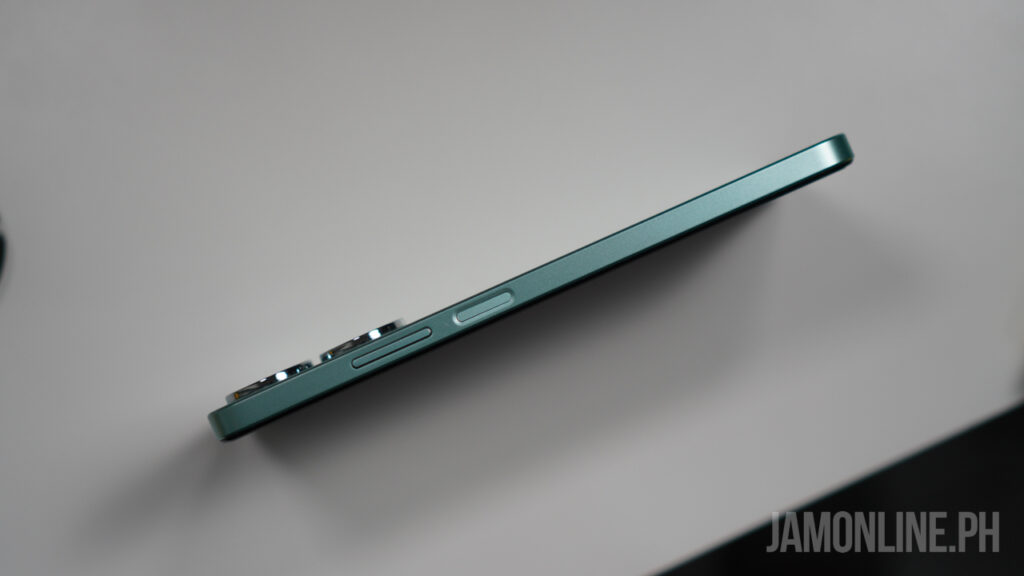 On the right side, realme has implemented a volume rocker and a capacitive power button that doubles as a side-mounted fingerprint scanner. This ensures easy access to volume controls and provides a secure way to unlock your device or authenticate digital payments with a simple touch.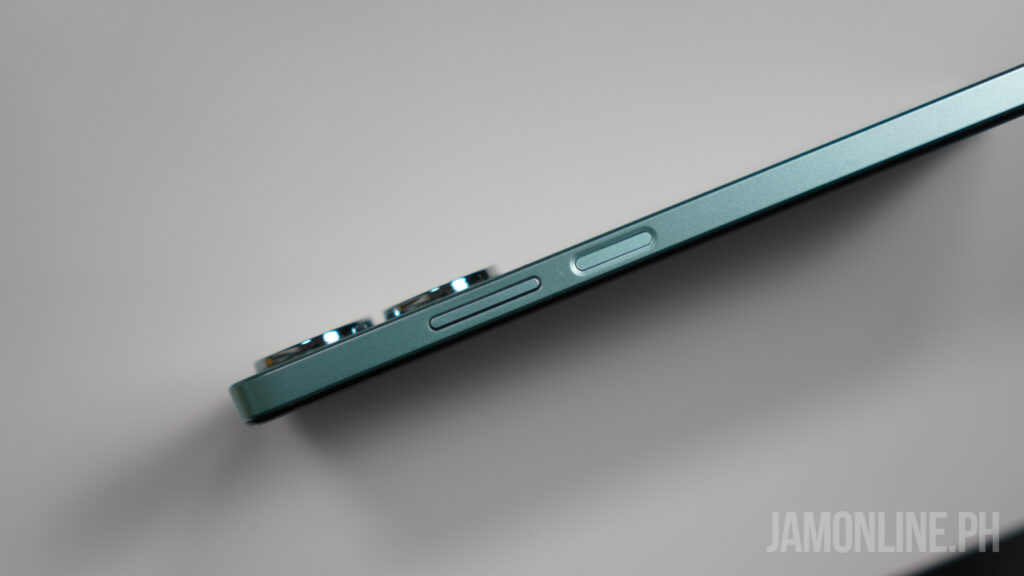 Taking a look at the bottom of the realme C55, we find a thoughtful selection of ports and features. The presence of a 3.5mm audio jack is a welcome addition for those who prefer using wired headphones or speakers. It also comes with a noise-canceling microphone, a USB 2.0 Type-C port, and a single downward-firing mono speaker.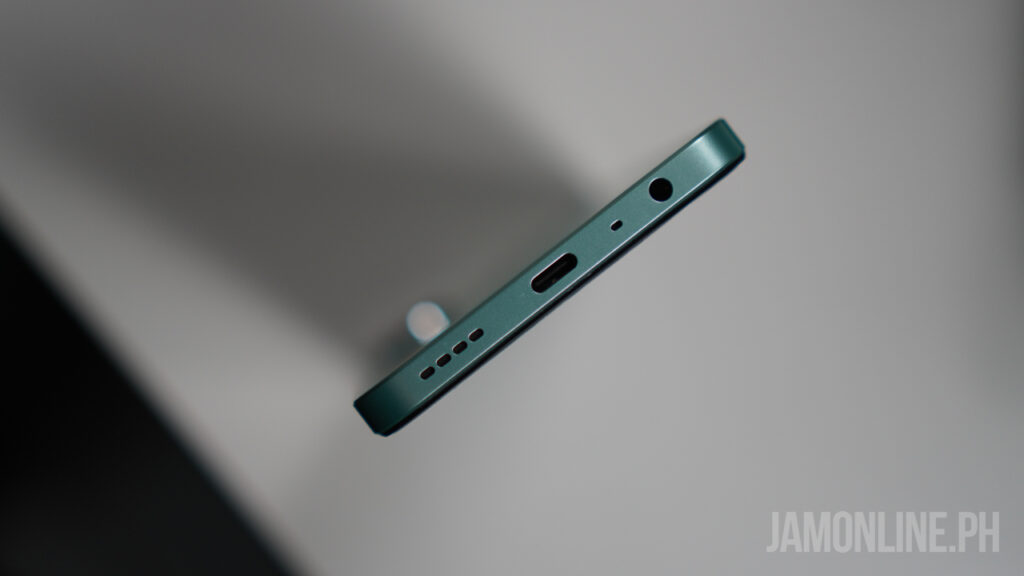 realme C55 Display and Sound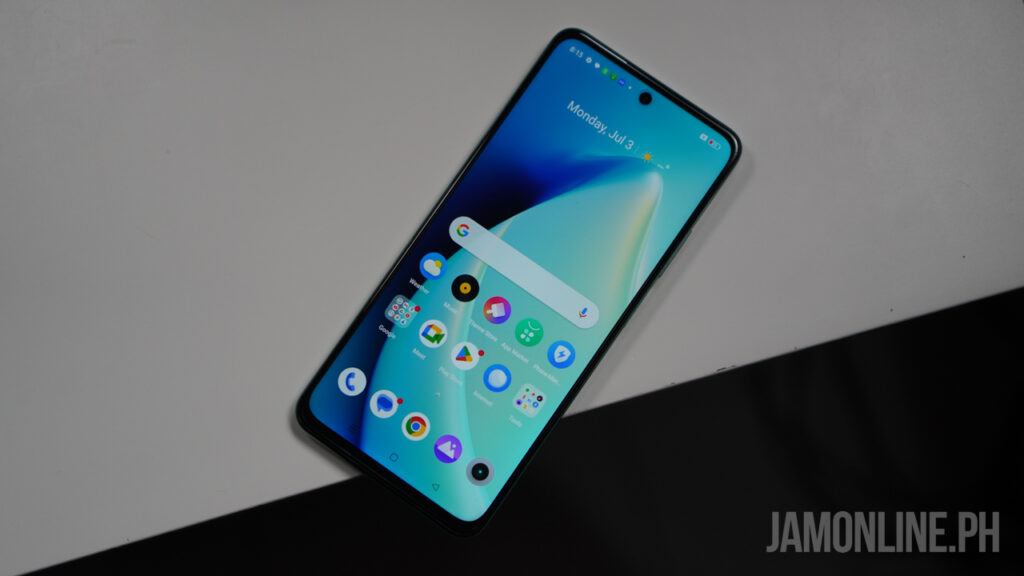 When it comes to the display, the realme C55 sports a 6.72-inch FHD+ IPS LCD screen with a 90Hz refresh rate. The colors look accurate, and with realme UI 4.0 adding some vibrancy, the UI design pops on this IPS panel. With this, watching your favorite shows and movies on this phone should feel pretty good, especially when you're winding down in a dark bedroom after a long day.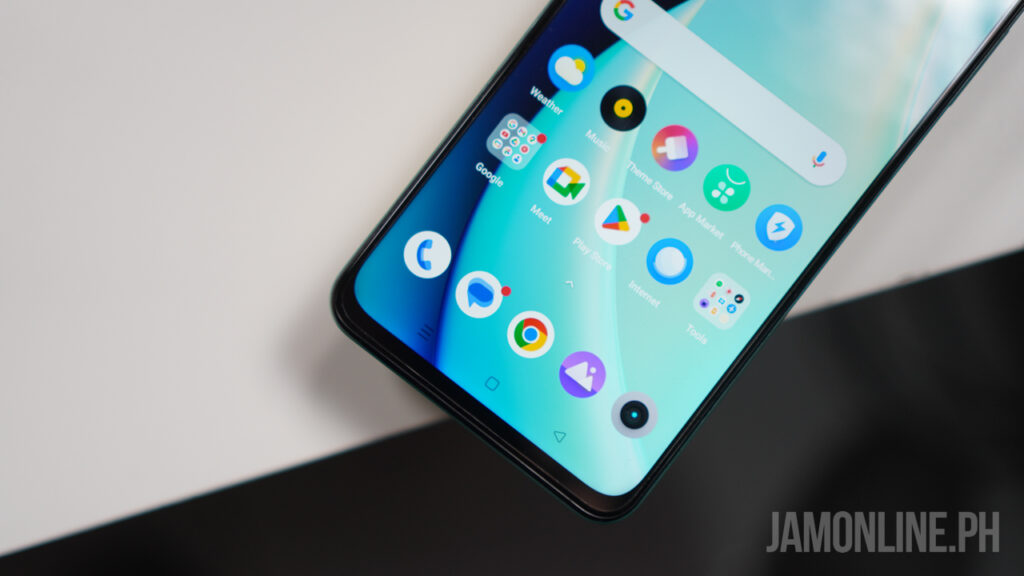 Now, let's talk sound. The realme C55 features good speakers, but if you're looking for top-notch audio, we recommend using headphones for a clearer and more immersive experience.
realme C55 Security Features
Now, let's talk security. The realme C55 offers various options, including a side-mounted fingerprint scanner and face unlock. It also has the classics, like the six-digit PIN or the pattern.
Here's the deal—getting the fingerprint scanner to work on the first (or even second, or third) try is challenging. It may take a couple of attempts before it can recognize your fingerprint. As for face unlock, it's pretty fast, but keep in mind that it's not as reliable in dimly lit settings.
realme C55 Camera
Alright, let's dive into the realme C55's camera capabilities. This device rocks a dual-camera setup at the rear, featuring a 64MP main sensor and a 2MP depth sensor. Expect sharp and accurate photos for your day-to-day social media needs. However, the image quality can take a slight dip in less-than-ideal lighting conditions.
In addition, for the average user who fell for that big-lens design, the camera's performance might feel underwhelming. Nighttime or dim light settings can also introduce some visible noise into your photos.
On the front, we have an 8MP selfie camera nestled beneath the display. It won't blow you away with its image quality, but it does the job. It's perfect for those raw social media posts—keeping it real!
Sample photos:
realme C55 Software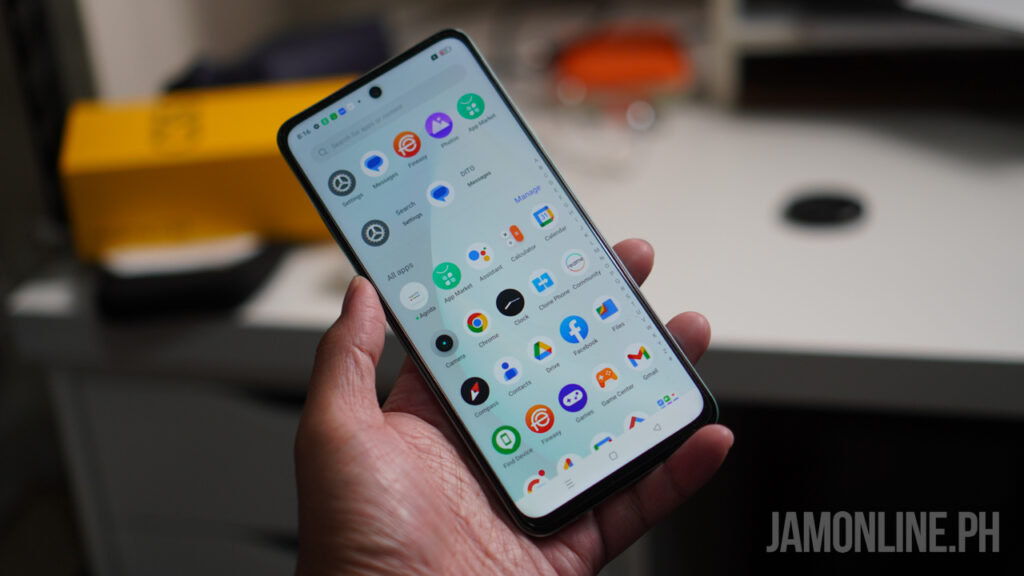 Out of the box, the realme C55 comes running Android 13 skinned with realme UI 4.0. Now, let's talk software. The realme UI is a user-friendly interface similar to Oppo's ColorOS. It sports vibrant icons that you can tone down a bit by adjusting the Screen Color Mode to Natural in the display settings.
Here comes the stylish highlight—the realme C55 introduces the Mini-Capsule, like the Dynamic Island of iPhone 14. It's actually the first mass-produced Android smartphone to feature such a thing. The Mini-Capsule integrates the front-facing in-display camera with the device's UI, utilizing capsule-shaped animations to indicate battery and charging status, as well as mobile data usage. It's a nifty little addition that adds some extra flair to your daily interactions with the phone.
realme C55 Performance
Under the hood, the realme C55 is powered by the Mediatek Helio G88 chipset, a 12nm octa-core processor, and Mali-G52 MC2 GPU. Now, let's talk performance. For its price segment, the Helio G88 is a good enough mid-range processor that handles day-to-day tasks with ease.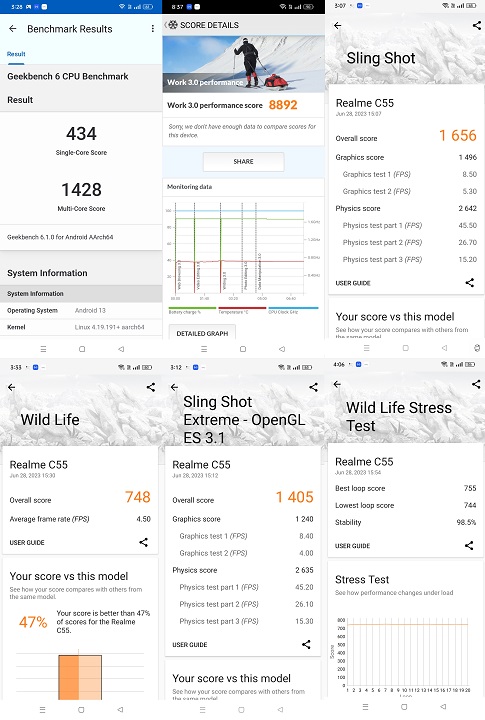 Switching between apps is smooth, and you won't experience any major hiccups. However, during intense gaming sessions, you might notice some occasional lags. Meanwhile, this can be improved by adjusting your game settings.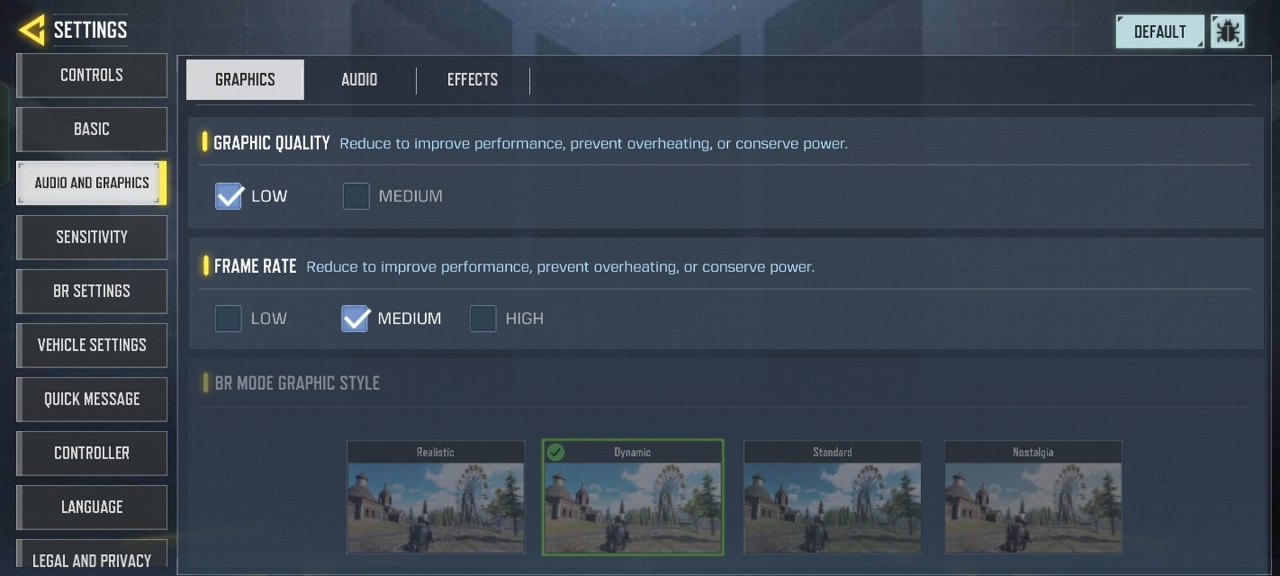 Overall, we would say the realme C55 offers a satisfactory performance that won't leave you frustrated, most especially if you're looking for a budget phone.
realme C55 Battery Life
Battery life is always a concern, and the realme C55 addresses it with a 5,000mAh battery that supports 33W SuperVOOC fast charging. This allows us to charge the phone up to 50% in around half an hour.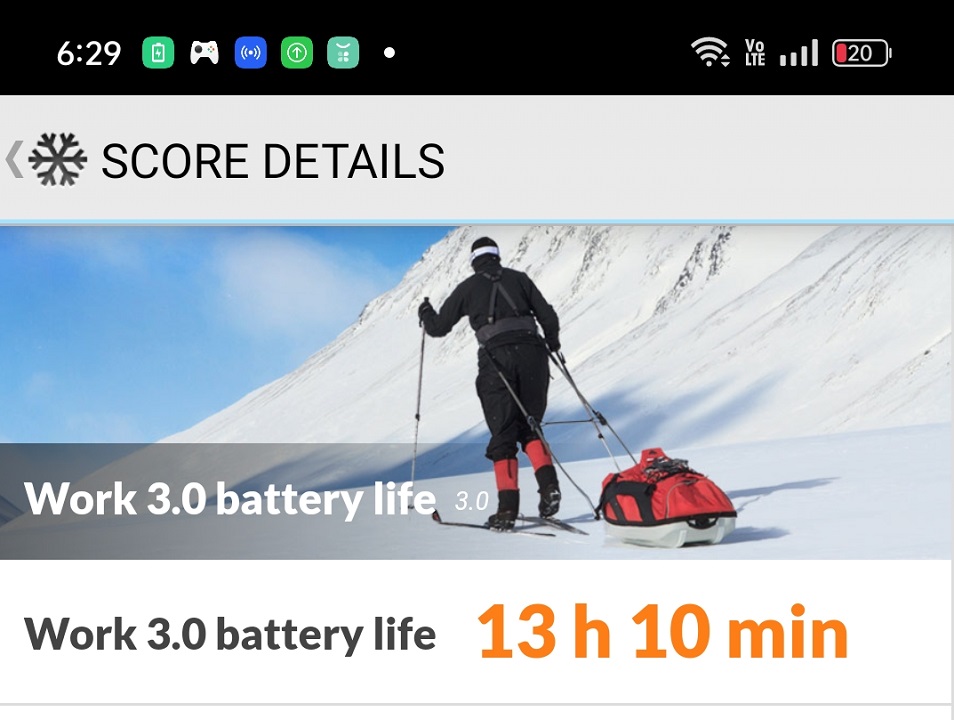 As our main driver, we could say that its 5,000mAh battery could go from 100% to 20% in just 8 to 9 hours, similar to other devices out there that we've used. But, it's worth considering that we heavily used it for social media browsing, Spotify and Netlfix streaming, and some casual gaming.
So, what's the final verdict on the realme C55?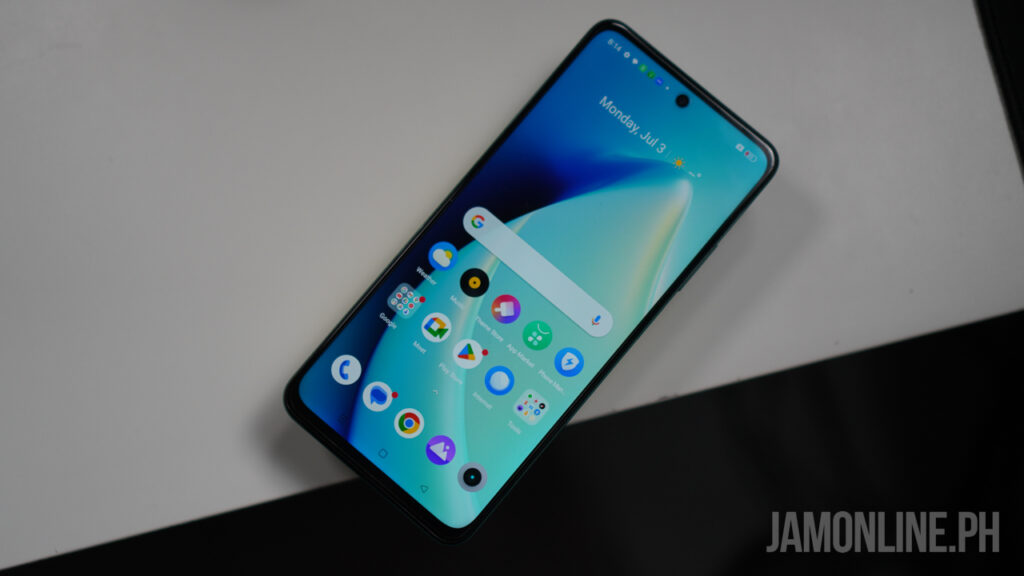 If you're on a tight budget and looking for a smartphone that offers solid performance, versatile cameras, and a reliable battery, the realme C55 is definitely worth considering. It's a budget-friendly gem that caters to gamers, multitaskers, and photography enthusiasts alike.
realme C55 key specs:
6.72-inch FHD+ display, 90Hz refresh rate
Android 13
realme UI 4.0,
Mediatek Helio G88 SoC
Mali-G52 MCU
8GB RAM
256GB internal storage
Main Camera: 64MP Main sensor (f/1.9 aperture, PDAF)
Secondary Camera: 2MP depth sensor
Selfie Camera: 8MP Selfie (f/2.0 aperture)
GSM, HSPA, 4G/LTE
Wi-Fi 802.11 a/b/g/n/ac, dual-band
Bluetooth 5.2
GPS, GLONASS, GALILEO, BDS
NFC
Type-C, USB 2.0
Battery: 5,000 mAh, 33W SuperVOOC fast-charging
Type-C, USB 2.0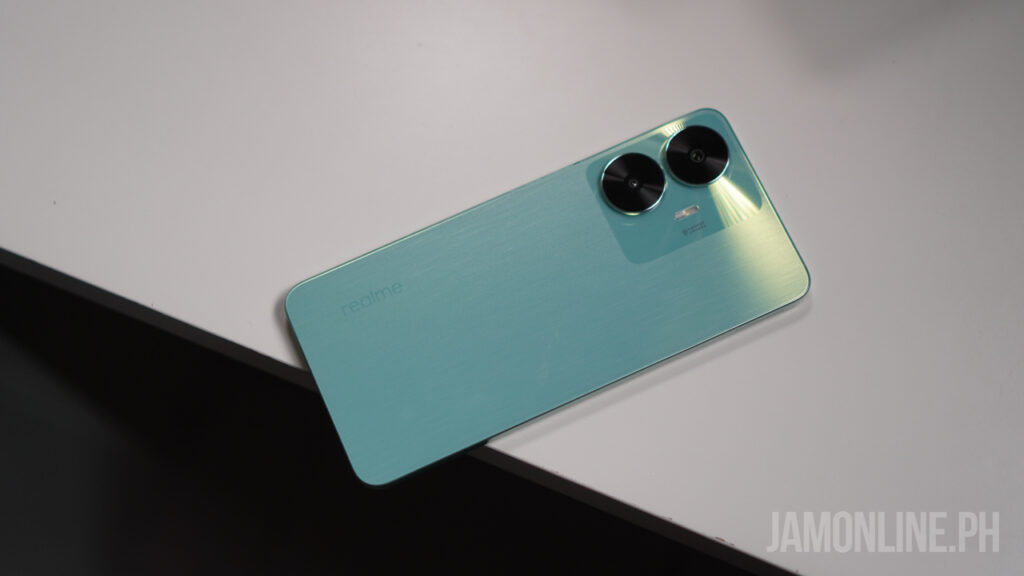 With prices starting at Php8,999 for the 6GB/128GB variant and Php10,999 for the 8GB/256GB configuration, it strikes a great balance between affordability and functionality.
So, what can you say? Share your thoughts with us in the comment section!