Do you have a business establishment in the country? Then, you might want to consider getting a new smart camera from Cherry Home.
DILG released its Memorandum Circular 2022-060, mandating select business establishments to procure better-quality CCTV cameras. This new memorandum affects the issuance of business permits.
With this, Cherry Home outs its suggested list of smart cameras from its wide array of IoT devices, helping businesses choose the right CCTV system.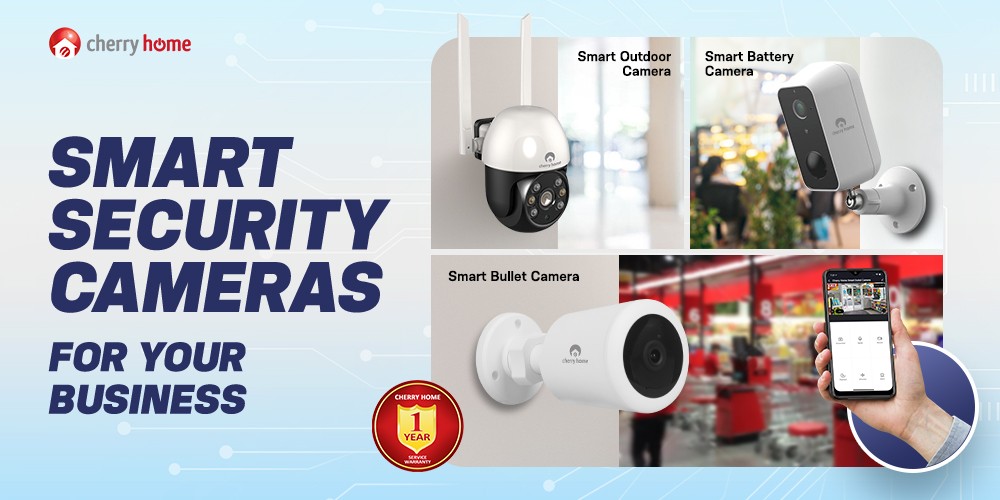 CHERRY HOME SMART OUTDOOR CAMERA
This device is ideal for outdoor usage, as it sports a 3MP camera with colorful night vision. It also allows clear live view and playback. In addition, it sports an Intelligent Auto-Tracking feature, enabling the device to monitor outside movements within the camera's range.
Moreover, it features Wide Viewing and Rotation Angles: 310-degree pan and 140-degree tilt for a better scope of your vicinity. For future reference, it supports 24/7 recording, which users can store via a 32GB MicroSD card.
Consumers can get the Cherry Home Smart Outdoor Camera for only Php1,620.
CHERRY HOME SMART BATTERY CAMERA
Meanwhile, this one is for you if you're looking for a CCTV that can run even in places that suffer from power outages.
Cherry equipped it with a 9000mAh rechargeable lithium battery which can stand long hours of usage without connection to any wiring. On top of this additional feature, it has a 1080p full HD camera that supports 24/7 video recording and a built-in microphone and speaker. Also, it can detect human movements with its AI Human Body Detection feature, which triggers an alarm system once enabled.
The Cherry Home Smart Camera sells for Php3,999.
CHERRY HOME SMART BULLET CAMERA
Certified IP65 Weatherproof and featuring up to 100 meters of wireless transmission, the Cherry Home Smart Bullet Camera is another brand model built both indoors and outdoors.
It can detect motion within a 10-meter range and highlights a 3D Digital Noise Reduction for more audible video playbacks. In addition, it has a clear resolution of 1080p at 15fps.
Business owners can get the Cherry Home Smart Bullet Camera for Php2,490.
Are you getting one?
Consumers can score Cherry Home CCTVs at www.cherryshop.com.ph.