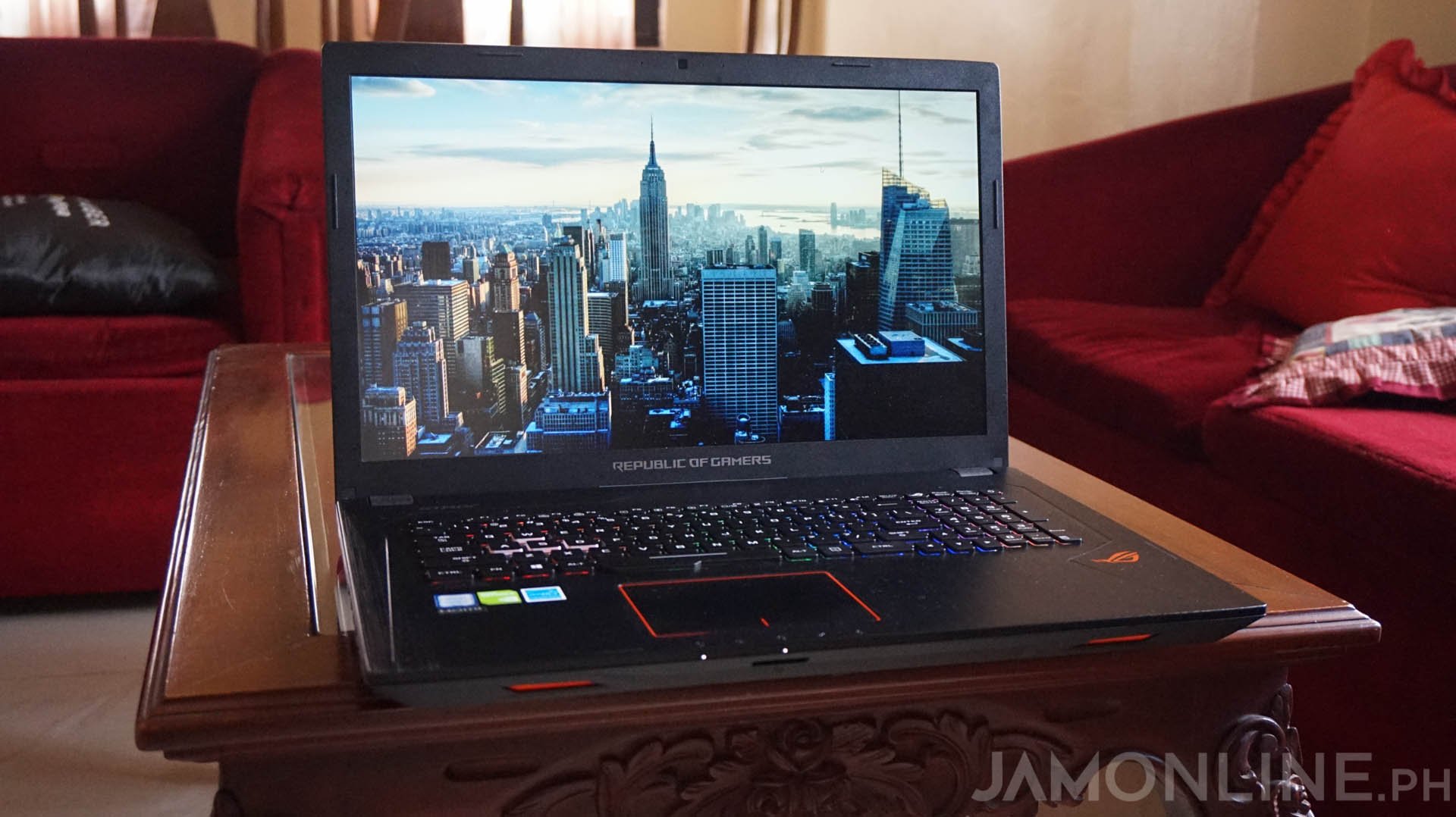 I've been using the ASUS ROG Strix GL753VE for a while now and yes, it's a little too big but I'm really enjoying using this one as this one is far more powerful than my Macbook Pro and it has a larger screen. The ASUS ROG Strix GL753VE is a gaming laptop that runs the latest Intel Core i7-7700HQ processor, 8GB of RAM, and a Nvidia GTX 1050Ti GPU. This isn't one of the best laptops that ASUS can offer but this laptop can surely feed your gaming needs. Check out our review of the gaming laptop below.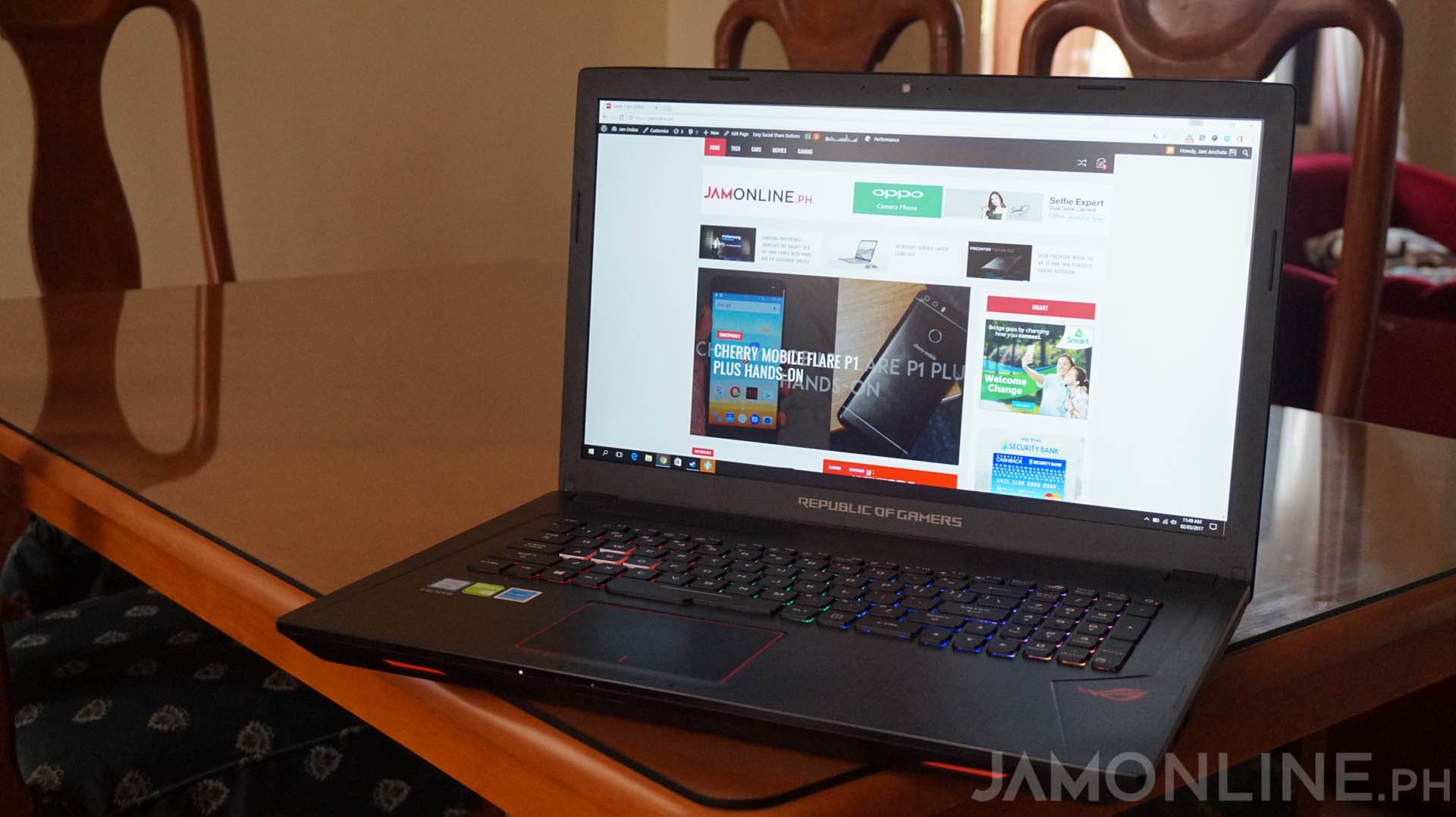 It's lot less bulky than I expected
Unlike the ASUS ROG laptops that we've reviewed before, the ASUS ROG Strix GL753VE has a design that is a bit different as the ASUS ROG Strix GL753VE now packs an RGB keyboard and also an orange hue but still, this gaming laptop still resembles some identity from its other ASUS ROG notebooks.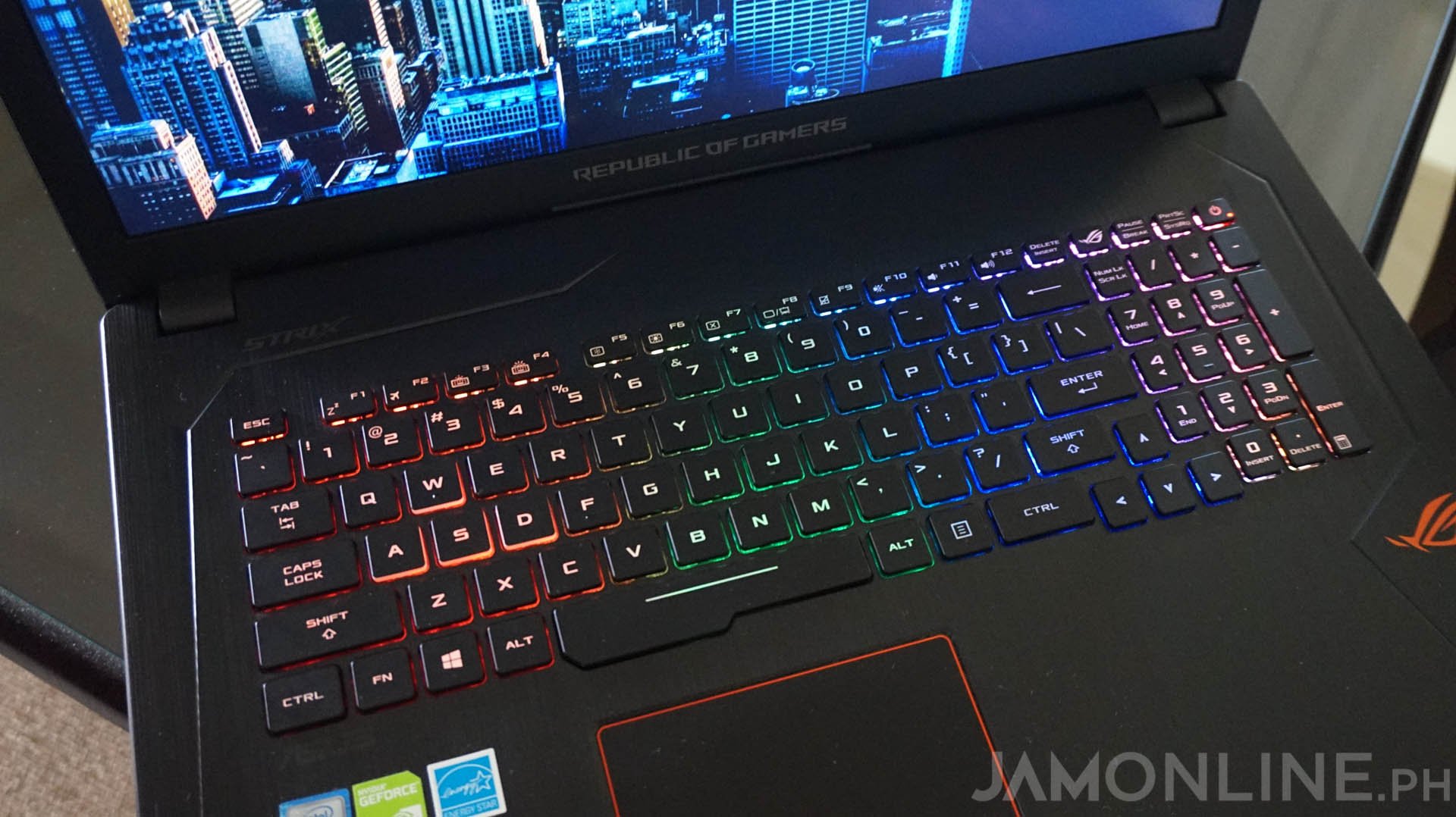 As a 17-gaming notebook, the ASUS ROG Strix GL753VE is a little less bulky than I expected. Yes, it's bigger and heavier than most laptops but it's a 17-inch gaming laptop that I can actually lift with my one hand (But I won't recommend doing that) because the laptop only weighs 2.8kg. Again, that feel weighs less than I expected but still, the laptop is still heavy. Also, the laptop only fits in my ASUS ROG bag which is by the way, really big.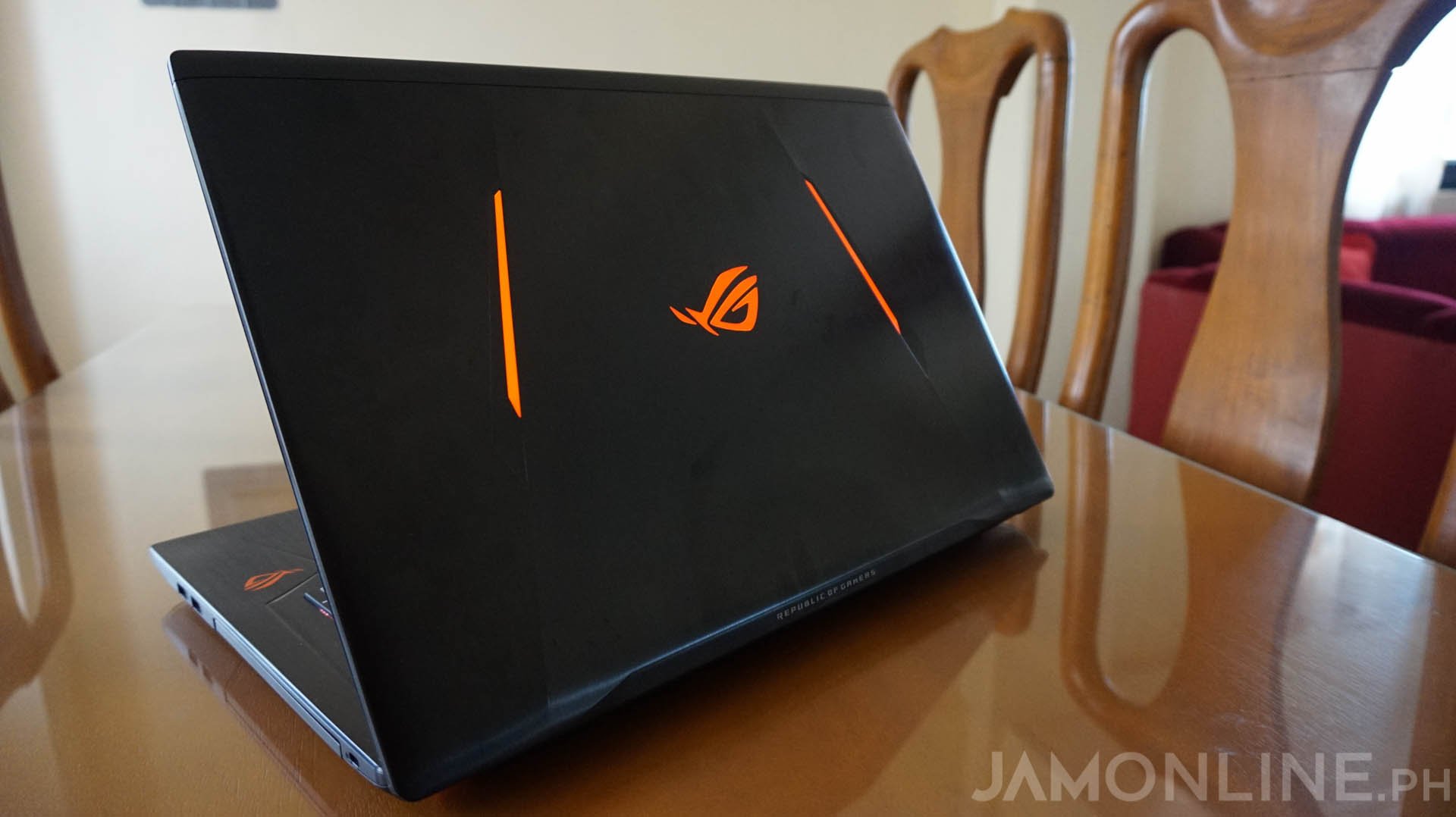 The laptop is made up of plastic with a brushed metal look and as expected, there's a little bit of hollow feeling when pressing into the body of the laptop because again, it's made up of plastic. Of course, it is also combined with the ASUS ROG logo that lights up along with the two lines and unfortunately, it doesn't have the RGB lighting. The keyboard lighting, however, can be controlled using the ROG Aura Core which we will talk about later.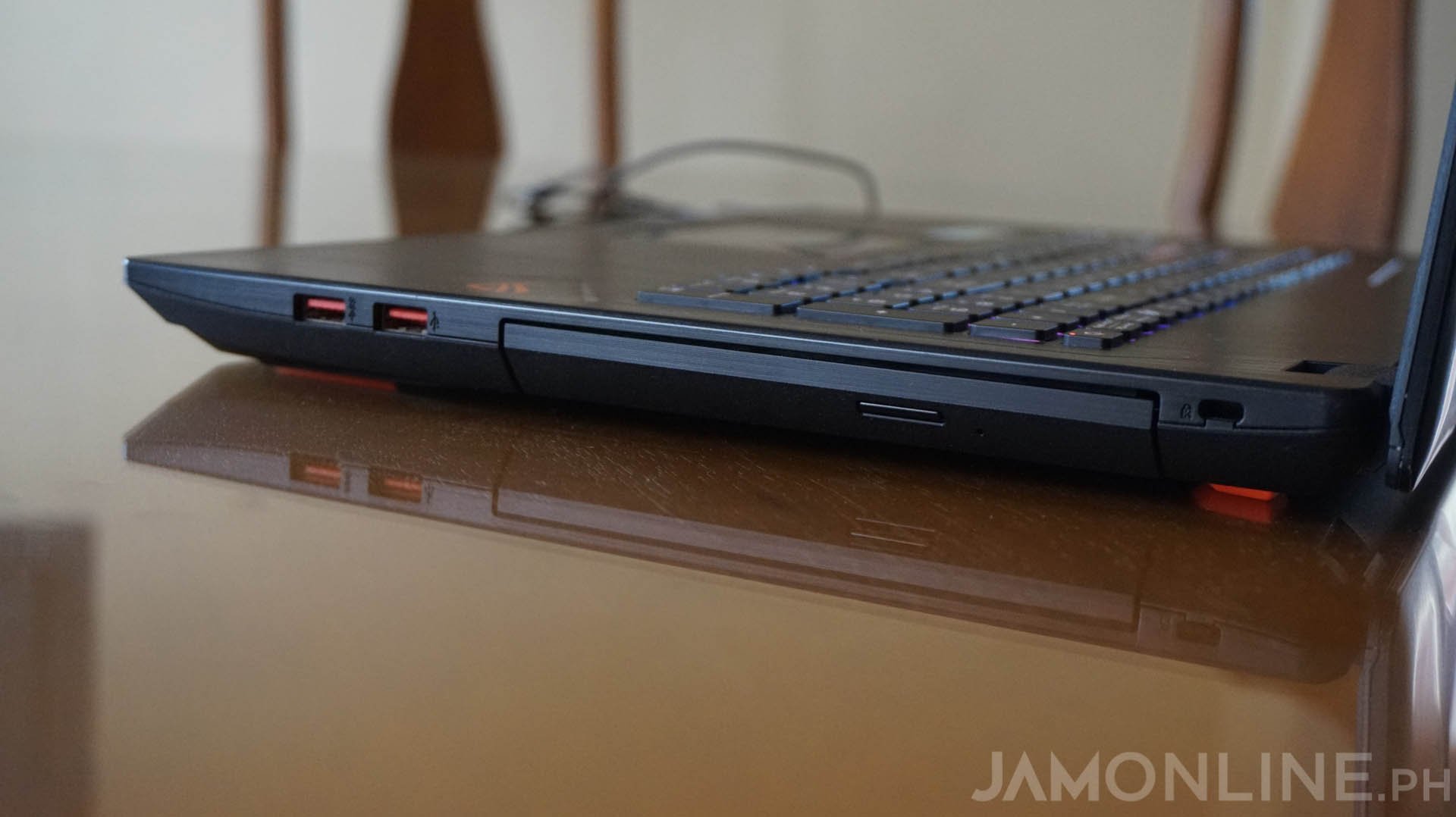 The laptop doesn't lack in ports as it has everything that you wanted on a laptop. It packs a LAN Port, HDMI, miniDisplay port, 3x USB 3.0, 1x USB 2.0, USB Type C, 3.5mm audio jack, and an optical drive. Of course, when it comes to connectivity, the laptop comes with Bluetooth and Wi-Fi.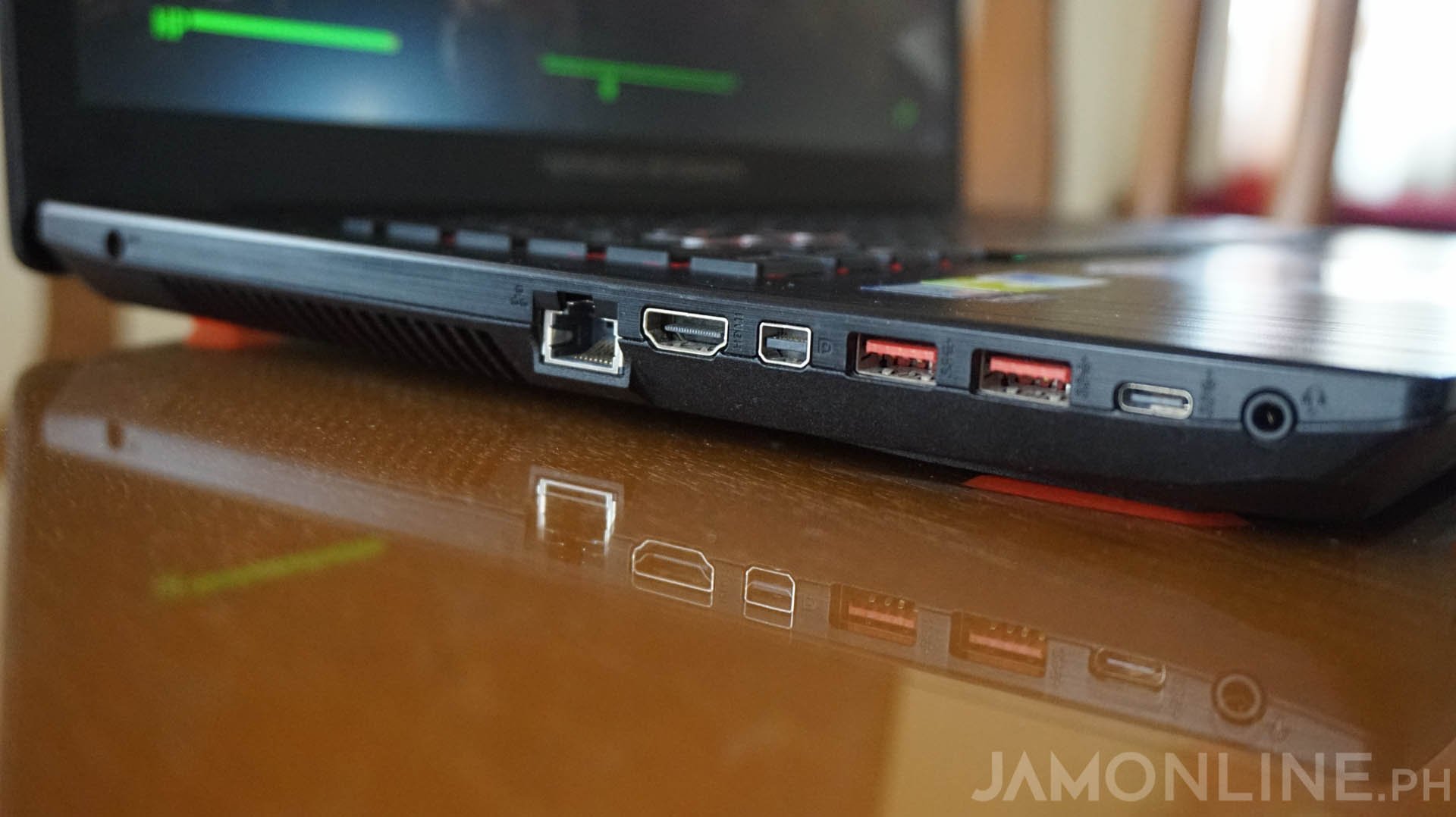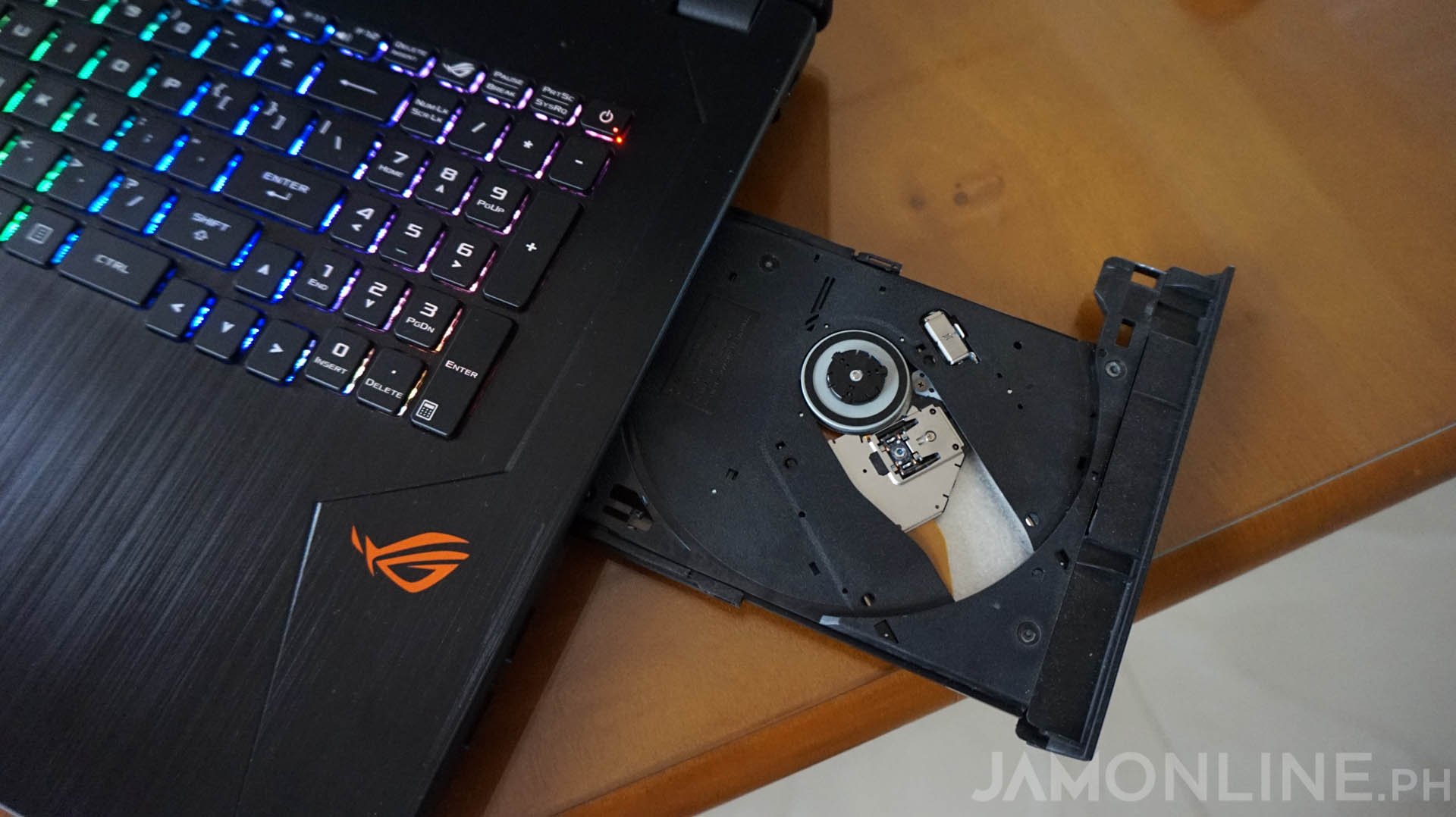 Another thing that you might not like about the laptop is its speaker. It didn't do much well. Yes, it's crisp and clear however It wasn't loud as I expected just like the other ASUS ROG laptops
The Display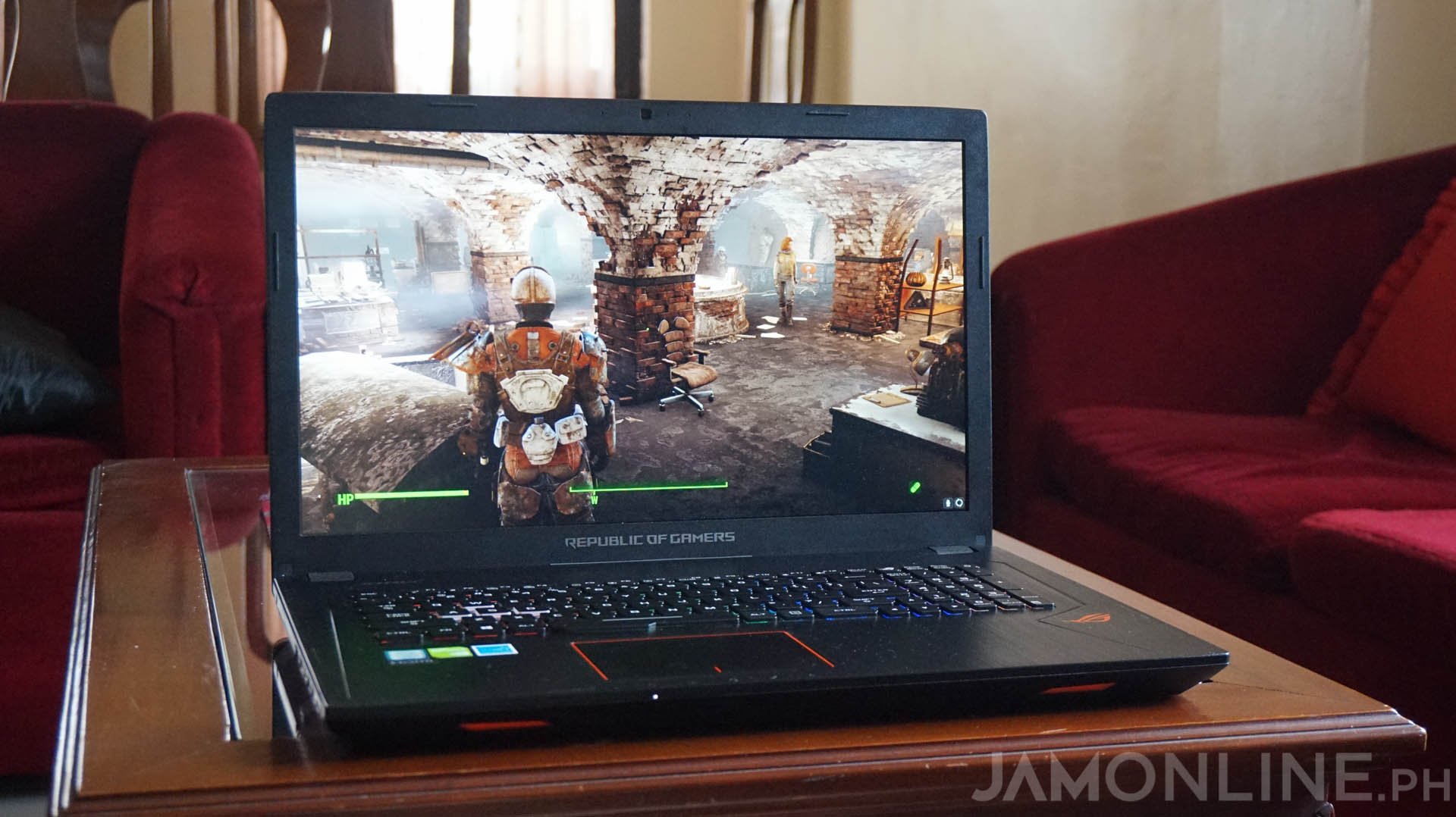 The ASUS ROG GL753VE got a 17-inch display and it packs a full HD resolution. The color and the viewing angles of the notebook is just fine and you won't really have any problems with it whether you are planning to get this laptop for some casual editing on Photoshop, video editing, and gaming, however, The ASUS ROG GL753VE lacks a G-Sync display on this one so yeah, you might want to get an external monitor if you want to experience G-Sync.
A great keyboard and just a fine trackpad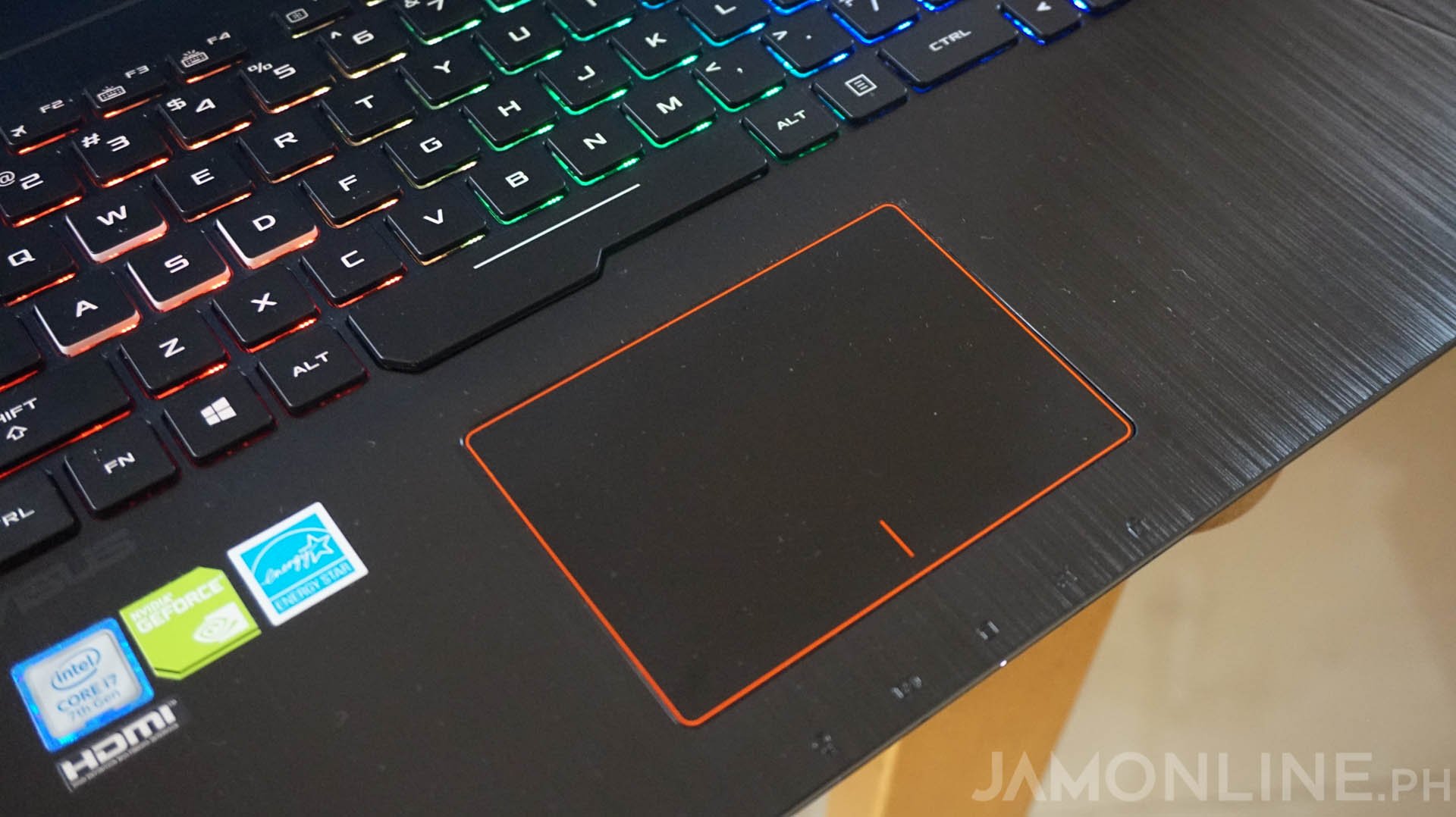 The ASUS ROG GL753VE comes with a full sized keyboard with a numpad. Actually, using the keyboard was great and it's really comfortable to type on whether you're typing a long document or playing Battlefield 1. It's just so comfortable to use. The keyboard lighting can be adjusted and actually, you can control the lighting and its effects on the ROG Aura Core app on the laptop.
The trackpad of the laptop is large enough to navigate and use for typical web browsing however it wasn't as responsive as I expected and there's a slight delay when using it. However, in my day to day use, it wasn't really a big deal to me and it works just fine. Oh and in case you didn't like the trackpad too, don't worry because the ASUS ROG Strix GL753VE comes an ASUS ROG Sica Gaming Mouse
The Performance
Inside the ASUS ROG GL753VE is powered by an Intel Core i7-7700HQ Processor, 8GB of RAM, and then there's the Nvidia GTX 1050Ti GPU. The laptop is definitely made for gaming and it can run the latest games without problems. In our test, we're definitely happy with it as the laptop performed well with all the games that we tried on it. Here are the framerates that I got with the ASUS ROG Strix GL753VE.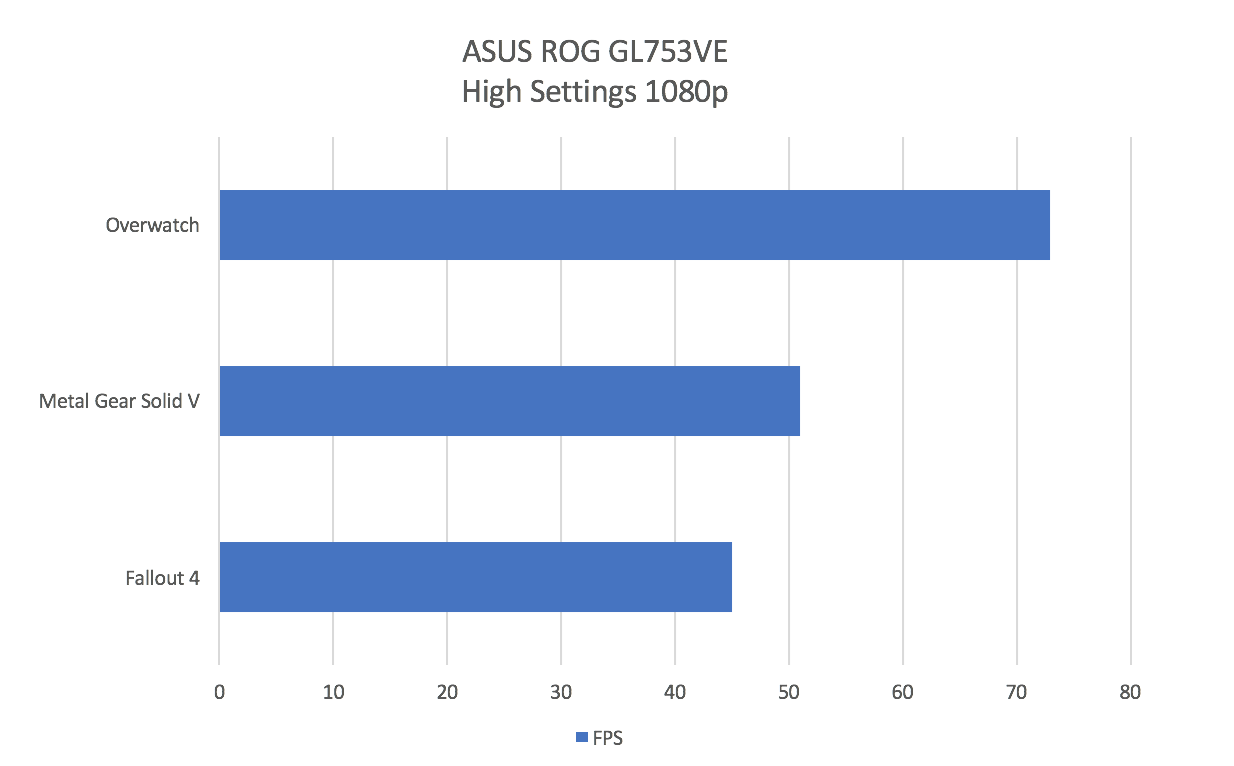 The ASUS ROG GL753VE feels warm when gaming but not really that hot that it gets to the point that the laptop will overheat. Actually, the laptop has a pretty good thermal whether you use the laptop for gaming or for rendering. Yes, the laptops are warm but it was not really that hot for a laptop.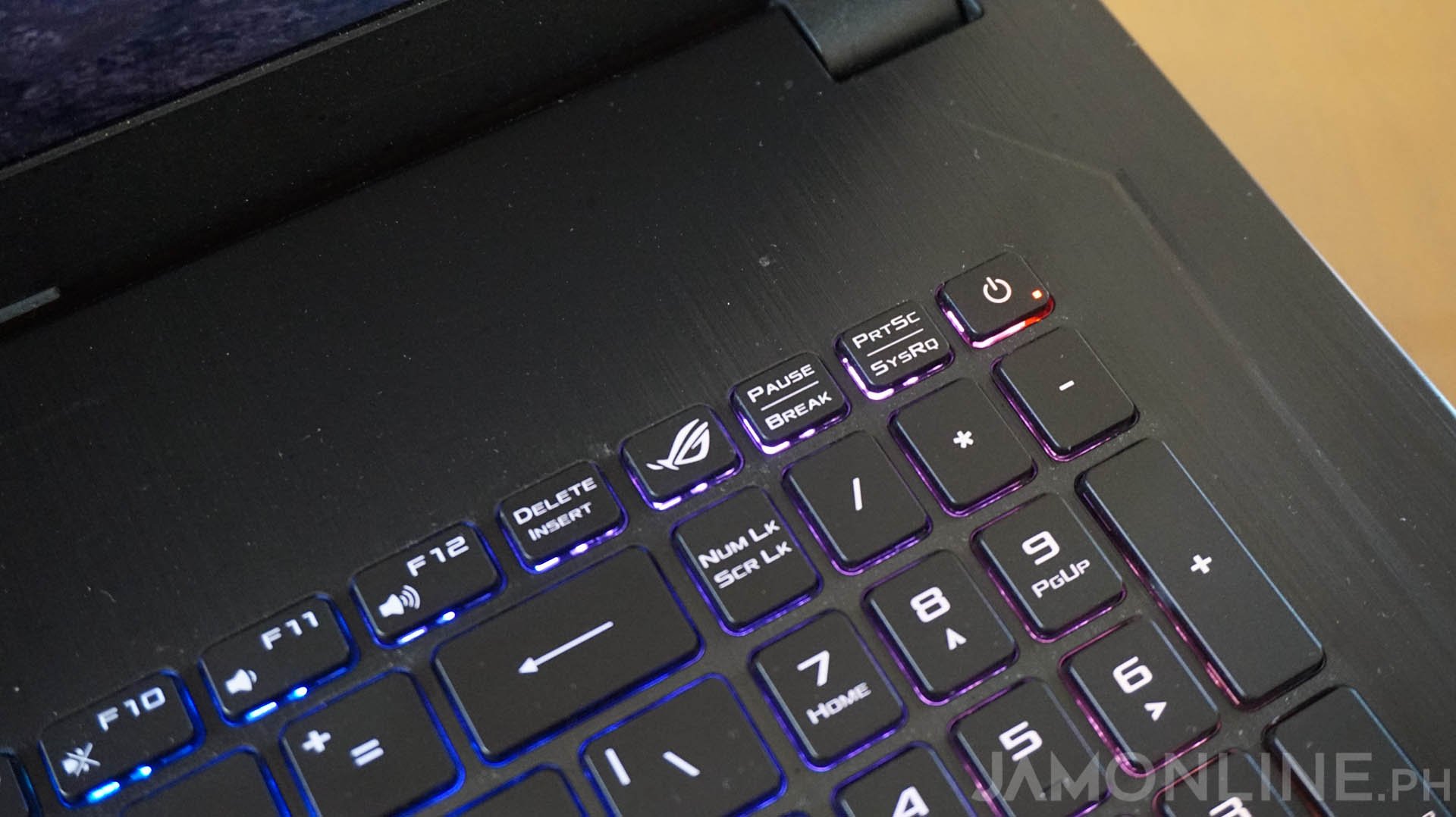 Also, to monitor the status and temperature of your laptop, the ASUS ROG Gaming Center lets you control the fans and other settings of the laptop. Aside from that, you could also launch the ASUS ROG Aura Core in where you can control the the RGB backlit keyboard of the ASUS ROG GL753VE.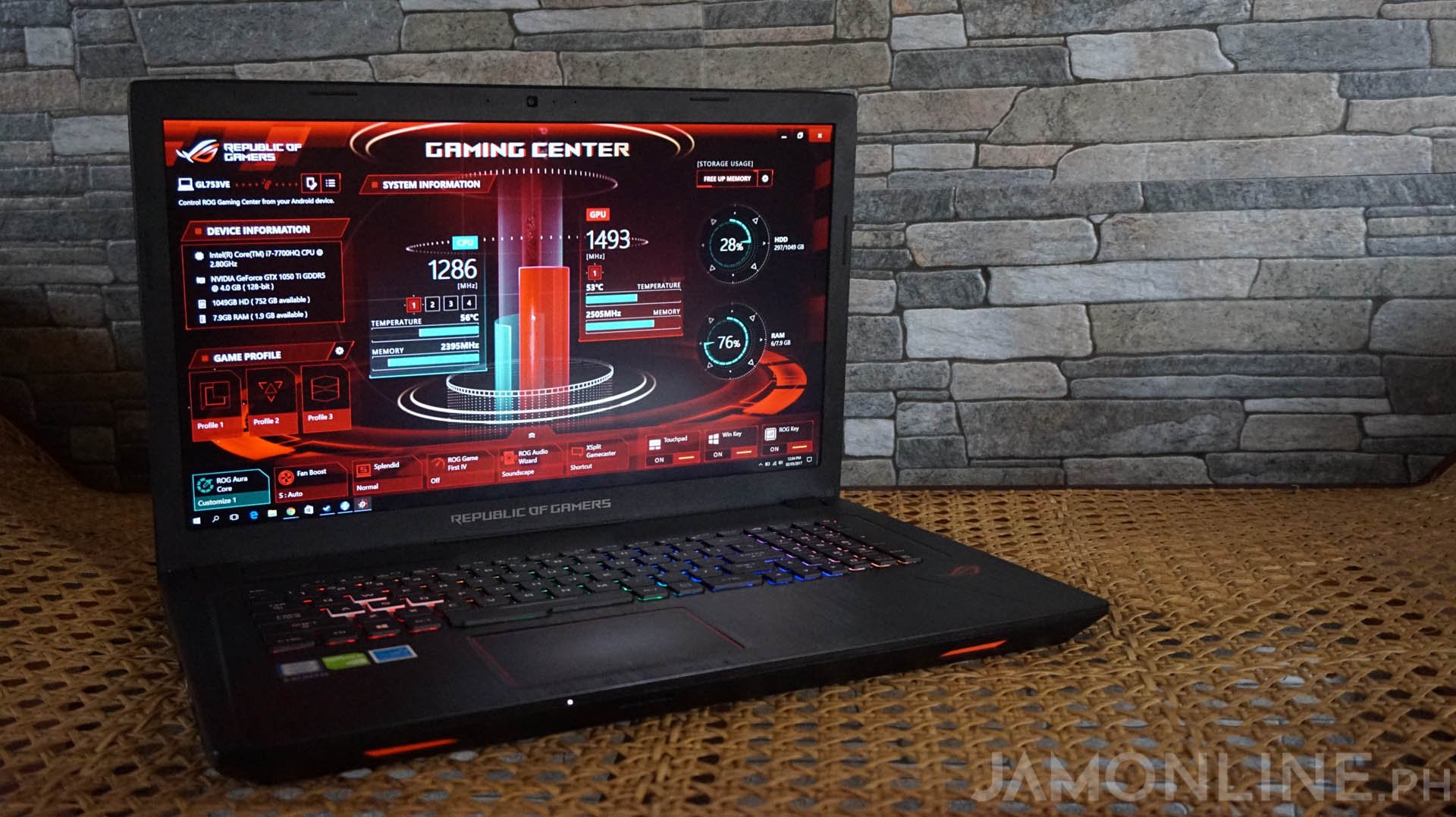 Short Battery Life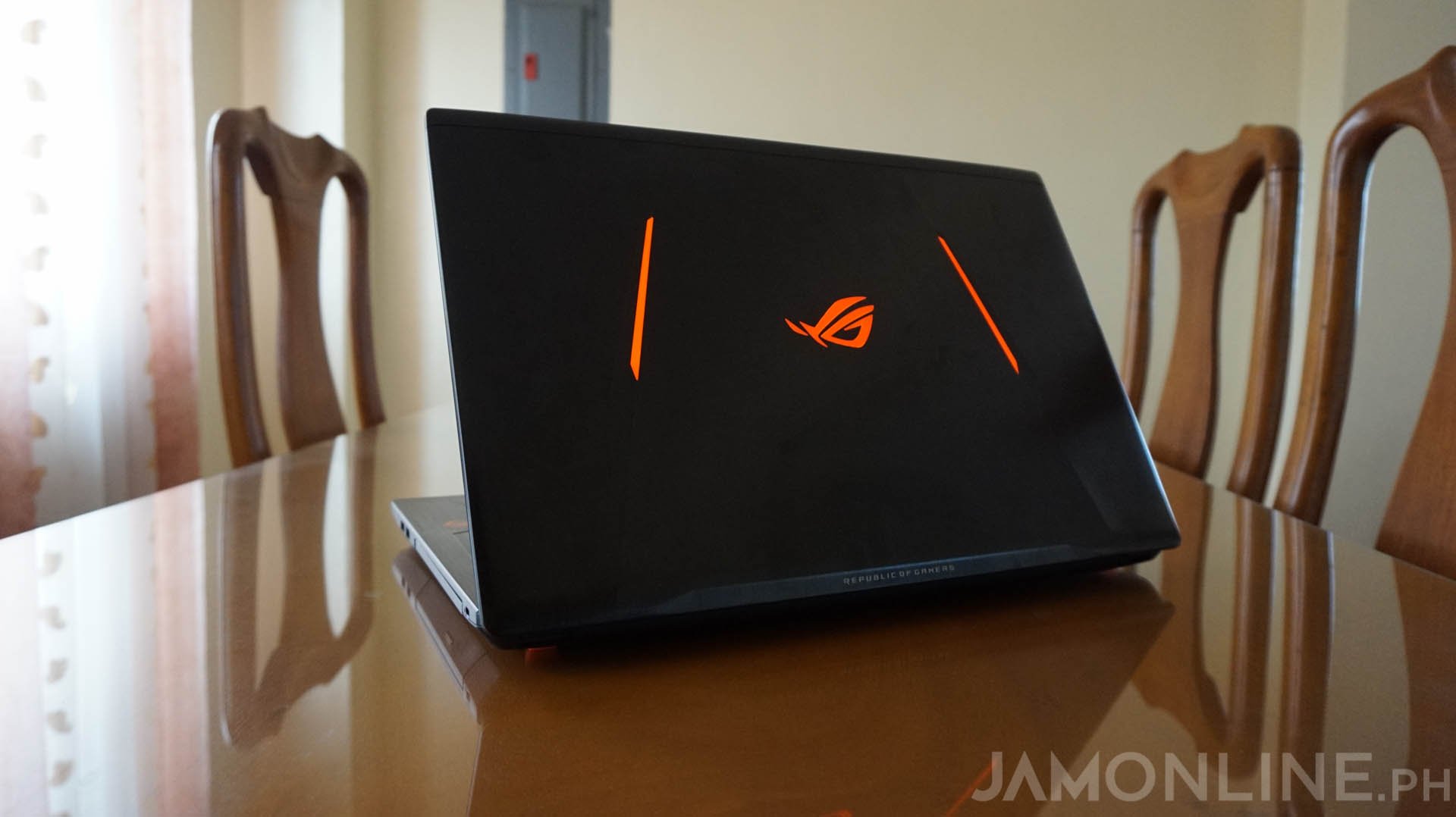 The battery life of the ASUS ROG GL753VE is something that you would not like on this laptop. Yes, it's a gaming laptop however it is still expected to have at least a 5 hours of battery on normal and light usage. However, we only get 3 1/2 to 4 hours of battery life on normal tasks such as web browsing and listening to Spotify however, the battery of the laptop comes short to 2-3 hours when playing games. So yeah, it's recommended to bring a charger with you when you're out the whole day.
Verdict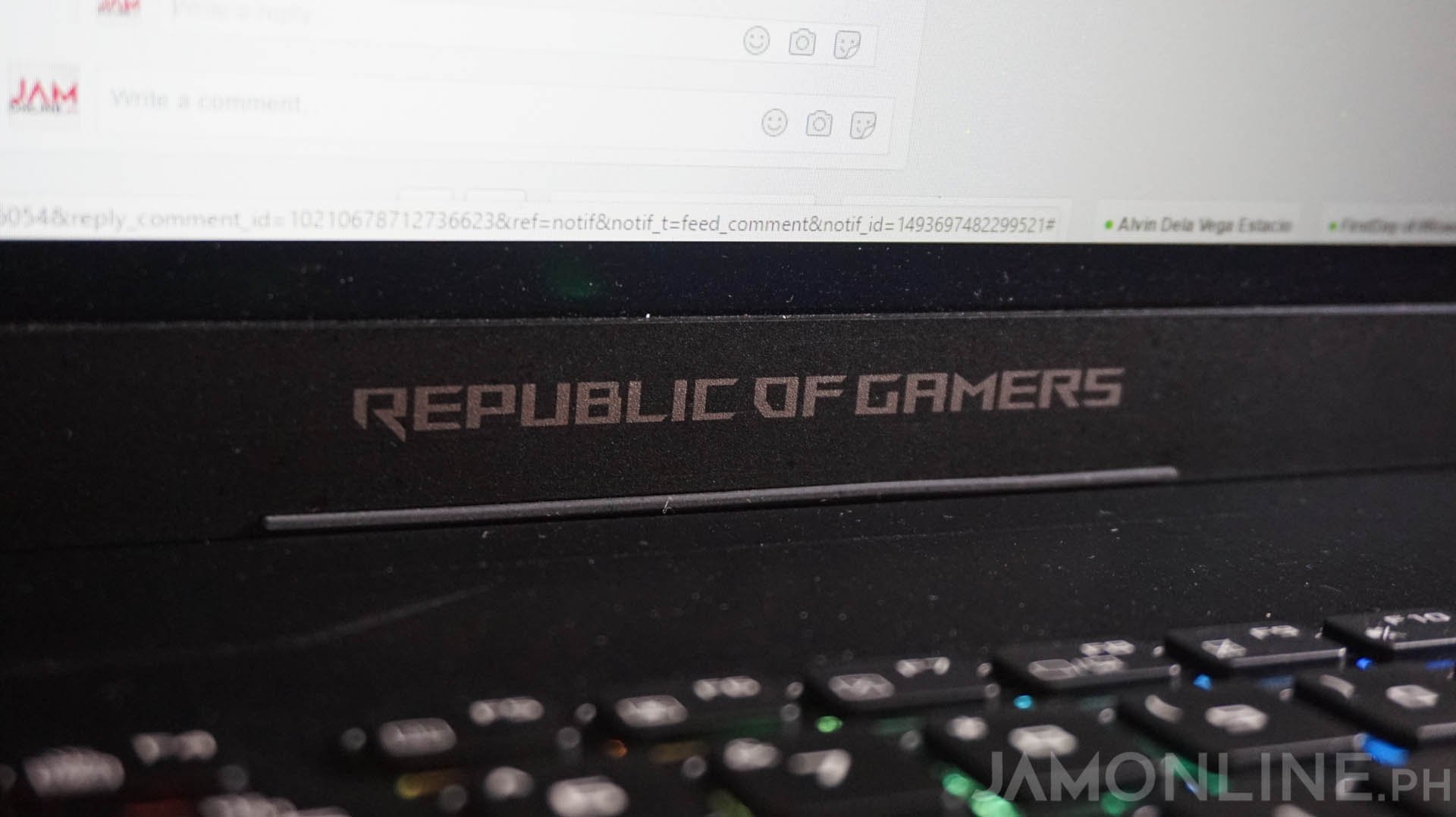 The ASUS ROG Strix GL753VE is a gaming notebook that is powerful enough for gaming, productivity, or rendering. It might not be the most powerful one but the Intel Core i7 processor inside it and also the Nvidia GTX 1050Ti which is more than enough for most people.
The design of the laptop wasn't disappointing despite having a plastic build. There's the cool RGB keyboard, just a fine display, however, the battery life of the laptop is a little bit short.
Nonetheless, the ASUS ROG Strix GL753VE is still a good laptop, however, it's a little bit pricey but of course, that's expected on a gaming laptop. The ASUS ROG Strix GL753VE is now available for P79,995